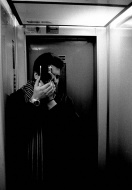 Vasilis Yiannakos was born in Athens, Greece in 1984. His family's roots fade in a small village from Ioannina, but he lives in Athens.
From a young age, he developed interest in liberal arts. He has studied music, European Civilization in Hellenic Open University (HOU) and some Physics in University of Ioannina (UoI).
His interest in photography started to develop in 2003 and since then it has become one of his main interests. From 2008 he is a member of PhotoMind, a photo community aimed at poetic photography.
Work presentations / exhibitions:
"Photographer" magazine, issues #160 (Apr 2007), #162 (June 2007), #166 (Oct 2007), #170 (Feb 2008), #182 (Feb 2009), #188 (Aug 2009)
Grey Magazine, issue #5 (Feb 2010)
"Vafeio Theater" exhibition, Photomind photo community (May 2010)
Photographing "Vafeio Theater", Photomind publ., 2010.
«Αστυγραφίες» ("Citygraphs") exhibition, Photomind photo community (Athens:Dec 2015 - Jan 2016. Thessaloniki: Apr - May 2016, Patra:May - Jun 2016)